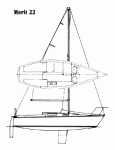 For all practical purposes, the Merit is a raised-deck boat like the Tanzer, with the benefits associated with this configuration. Indeed, it's possible to sit comfortably below in spite of the boat's limited headroom.
There is considerable well-proportioned open space in the 22's cabin, but (customizers, take note) it's as plain as can be. Asked to evaluate the joiner work, one sailor said simply, "There isn't any." There is one chunk of wood in the Merit -- a treacherous little table of questionable design. Resting one's hand on its inner corner causes the table top to flip from its mount like a giant tiddlywink.
On deck, the Merit proved the easiest of all the boats to work. Everything is flat -- nothing is in the way. Perforated toe rails line the sheer of the boat, serving as a useful anchor for all sheet blocks and fenders. However, we'd like to see goodsized chocks bow and stern. The sharp rail ends on the boat we sailed will surely slice through anchor line, otherwise. Bigger mooring cleats and an additional cleat at the bow would also be appreciated.
What this boat lacks in finish, she makes up in personality.
Despite a rig that was as out of tune as a damp guitar -- she had been sitting in the yard of a powerboat dealer for a year -- the 22 demonstrated an eagerness to sail. She's easily the quickest boat of the trials. Like a thoroughbred racer, she comes through the eye of the wind in a twinkling; when the skipper says "helm's a lee," you had better be ready. Though perhaps not a good boat for the timid beginner, she'll reward the skipper who dotes on twitchy helms.
As befits her high performance, the Merit is a light boat. Hull and deck are cored with ½-inch balsa, sandwiched on either side with layers of hand-laid 1.5-ounce mat and Knytex knitted roving. We can't attest to the longevity of her construction, but she did survive a "rapid lowering" of her 600-pound retractable lead keel (OK, we dropped it). She heaved and panted as if alive, but there was no damage.
Hidden Merit. Speed is Merit's priority, so cabin furnishings are minimal.
The armrest at center houses the lifting keel, shown here without its lifting mechanism.
Which Boat for You?
Under sail, these boats are more alike than different. Still, some characteristics stand out — the quick and spirited performance of the Merit, the good manners and well-designed accommodations of the Starwind, the big interior and latent performance potential of the SanJuan, the big cockpit and steady feel of the Tanzer, the versatile accommodations and solid construction of the Sirius.
The winner? It's the boat best suited to your needs.
1986 SBJ Sailboat Sea Trials
Starwind 223
San Juan 23
Tanzer 22
Sirius 22
Merit 22
LOA
22' 3"
23'
22' 6"
22' 1"
22'
LWL
19' 4"
20' 4"
19' 9"
7' 11"
8'
Beam
8' 6"
8'
7' 10"
7' 11"
8'
Draft (board/keel up)
1' 10"
1' 11"
2'
1' 4"
2'
Draft (board/keel down)
5'
4' 9"
4'
5'
4'
Displacement
2,435 lbs.
2,700 lbs.
3,100 lbs.
2,100 lbs.
2,000 lbs.
Ballast
700 lbs.
960 lbs.
1,500 lbs.
525 lbs.
500 lbs.
Sail Area
210 sq. ft.
234 sq. ft.
222 sq. ft.
203 sq. ft.
225 sq. ft.
Designer
Cortland Steck
Don Clark
Johann Tanzer
Vandestadt & McGruer
Paul Yates
Base Price
$12,235 w/ sail
$12,495 w/ sails
$12,615
$10,500 w/ sails
$10,995 w/ sails & trailer
Builder
Starwind, Div. of
Rebel Ind.
1220 Tallevast Rd.
Tallevast, FL 33588
(813) 355-8455
San Juan Mfg.
3102 B Street NW
Auburn, WA 98001
(206) 854-5400
Tanzer Industries
PO Box 67
Dorion, Quebec
Canada J7V 5V8
(514) 455-5681
Vandestadt & McGruer Ltd.
Box 7
Owen Sound, Ontario
Canada N4K 5P1
(519) 376-5848
Merit Marine, Inc.
13541 Desmond St.
Pacolma, CA 91331
(818) 897-1271