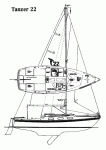 The Tanzer 22 has been around for a while -- since 1970, in fact -- and the boat we sailed had some 12 seasons under its swing keel. A strong sheer and raised deck aren't exactly standard styling touches for the mid-eighties, but the boat made us aware of some old-fashioned virtues as we spent time aboard her.
This boat's headroom is less than some of the others, but it extends just about all the way to the rails. There's no need to scrunch down under low sidedecks. In spite of this, the main cabin lacked the open, roomy feel associated with most newer designs. Part of the blame can be laid to ceiling-to-sole plywood bulkheads that had probably darkened with age. As was the custom of its time, there is also considerable built-in furniture, including an icebox and a sizable galley to starboard, which can be worked while you're seated in the dinette or on one of the berths. Impressions aside, the Tanzer has plenty of room and adequate storage.
The Tanzer has the largest and most comfortable cockpit of all the boats we sailed. It's huge, and the backrests are deep and properly angled. You're close to the water and the fizz of her wake -- a pleasant feeling. Visibility from the helm over the broad, low deck is superb. Though going forward is easy, you'll want to find proper handholds on the grab rails and bow pulpit since there are no stanchions or lifelines. Ironically, the chainplates are relatively far out towards the rails. This is one boat in which they could have been farther inboard without being in the way. Perhaps this is a sign of the 22's age, but it does give a better staying angle for the shrouds and is therefore stronger than most modem rigging geometries, everything else being equal. Finally, Steinmetz found his 8-inch mooring cleats. His notes indicate suitable elation. The marine aluminum cleats are hollow with enough horn to secure anything that might come to mind. The Tanzer's swing keel, like all boats in these trials, permits easier trailering. Bear in mind, however, that her 3,100-pound weight is going to require a suitably powered car or truck.
In performance, the Tanzer gives up little to newer boats its size. She easily settles into "the groove" and ploughs through the water as if she's on rails. Being close to the water enhances this feeling of speed. It's somewhat more sedate in stays, but that can be viewed as no disadvantage to the casual sailor. This boat, with its 1,500 pounds of ballast will not be knocked down easily. But if the 22 is flattened by an unexpected gust, the raised deck will push considerable volume into the water and help bring the boat to its feet. Low-sided designs can use all the help they can get.
With all their functional advantages, it's difficult to find arguments against raised decks for small cruising boats. In fact, the configuration has always enjoyed a measure of popularity among designers and builders. For aesthetic reasons, the boating public shares little of that enthusiasm -- or so the marketing people would have us believe.
One final note about this boat: Tanzer 22s have been around long enough that there is a class association and diligent searches may turn up used boats for sale. The 12-year-old we sailed carried her age very well, testimony to her solid construction.
Old-Style Virtues.Tanzer's raised-deck construction may look out of date,
but she shows a fair turn of speed (top) and has lots of sitting headroom below.